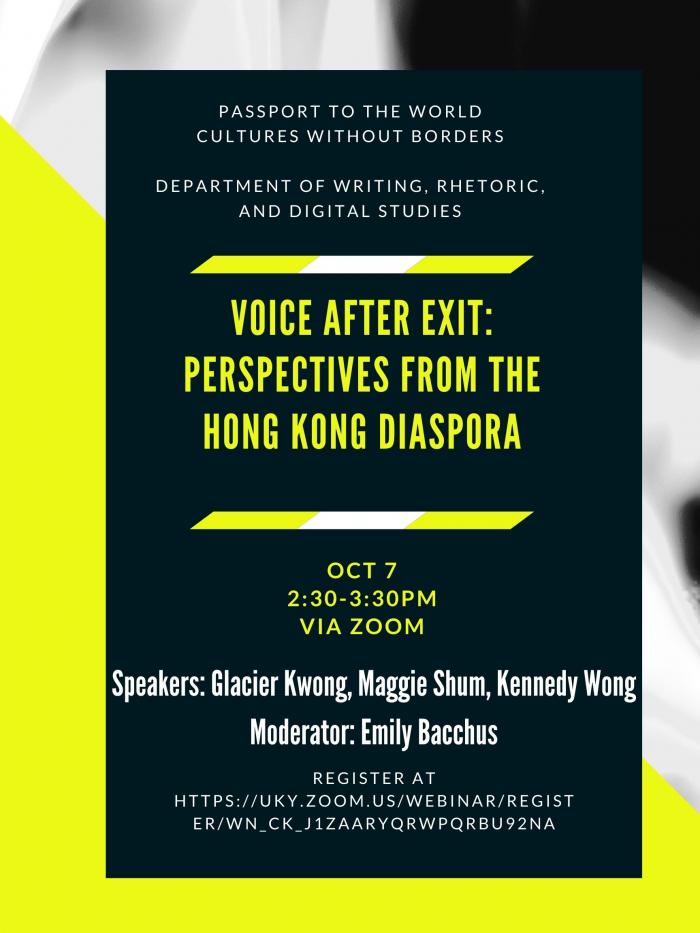 In the aftermath of the 2019 anti-authoritarian movement in Hong Kong, the Chinese government abruptly implemented the National Security Law, which criminalizes dissents and protests against the government. Since then, the Hong Kong government has been engaged in mass arrests and the ongoing persecution of pro-democracy activists, lawmakers, and journalists. As a result of these crackdowns, many activists have gone into exile, seeking asylum in countries such as the US, UK, Australia, Canada, and Germany. As the National Security Law further clamps down on the freedom of speech and other civil liberties in Hong Kong, many Hongkongers have also opted to emigrate. This proposed panel responses to the current wave of exile and emigration from Hong Kong. Moderated by Dr. Emily Beaulieu Bacchus (Political Science, International Studies), this panel event brings together three activist-researchers from the Hong Kong diaspora who will discuss how diasporic Hongkongers construct a collective identity, engage in advocacy, and exercise their political agency in a transnational context despite the constant threat of state persecution. 
Speakers:
Glacier Chung Ching Kwong is a political activist from Hong Kong. She is currently the Digital Rights Research Fellow at Hong Kong Democracy Council (HKDC), a leading organization for the pro-democracy movement in Hong Kong and HongKongers overseas led by fellow activist Samuel Chu. Previously, she was the spokesperson of the non-governmental organization (NGO) Keyboard Frontline, monitoring privacy abuses and censorship on the web.
Maggie Shum is a research and program associate of the Global Policy Initiative in the Keough School of Global Affairs at the University of Notre Dame. She earned a PhD in political science from Notre Dame, specializing in comparative politics with a regional focus in Latin America, Brazil, and Hong Kong. She is interested in participatory policies, policy diffusion, political party organizations, contentious politics, and elections. She also is conducting the survey research project "Hong Kong Voices in American Politics," which focuses on Hong Kong-Americans' political attitudes in the 2020 US election.
Kennedy Chi-pan Wong is a Ph.D. student in sociology at the University of Southern California. As an international student who is born and raised in Hong Kong, Kennedy is deeply interested in how immigrants construct the concept of "diaspora" as a "transnational project" to support the resistance in their homeland. Kennedy is conducting ethnographic field research on the Hong Kong immigrant groups in the United States that support the resistance in their homeland. In particular, Kennedy examines how people construct diaspora as a project to sustain their political commitment and participation in both host and home country. In dialogue with the diasporic mobilization literature, this study aims at exploring the theoretical intersections between inclusion-exclusion boundary making, nationalism, transnationalism, and international relations.
Location:
https://uky.zoom.us/webinar/register/WN_CK_J1ZAaRYqRWPQRBu92NA
Type of Event (for grouping events):